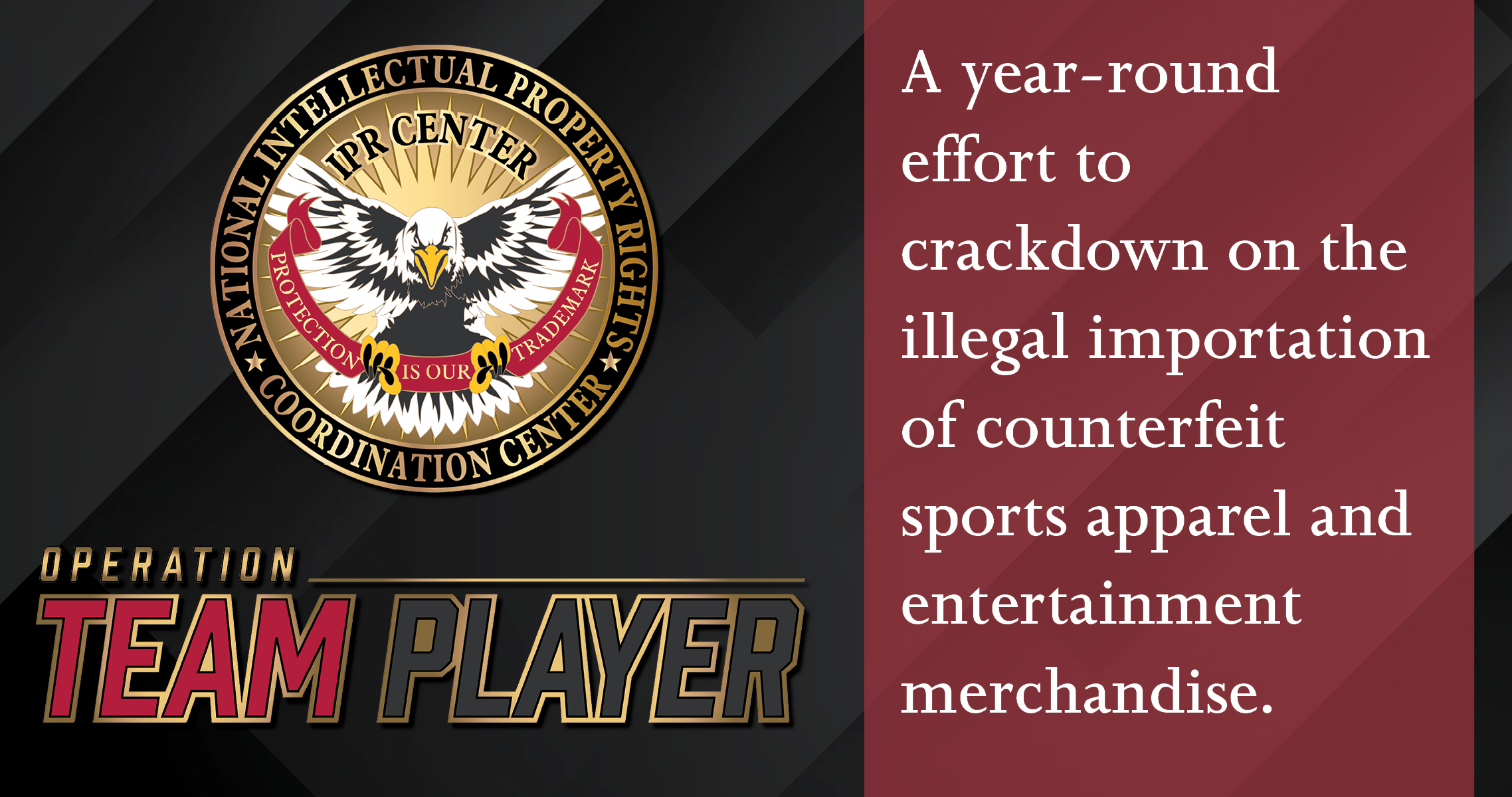 American cities host thousands of sporting events each year, and the big ones — such as the Super Bowl, the World Series, the Stanley Cup Playoffs and NBA Finals — can draw record-breaking crowds. They can also generate record-breaking profits for American companies; people buy tickets, merchandise, concessions and souvenirs as they create lifelong memories.
But unfortunately, there's a dark side to these lighthearted events. Criminal organizations, scammers and counterfeiters rake in millions of dollars each year on fake sports apparel, merchandise, and other memorabilia. They're out to take advantage of excited sports fans while putting Americans and others at risk. Scammers know that fans will spend money to support their favorite teams, and they prey on enthusiastic fans just like you. They don't care who they hurt; all they care about is turning a profit. And sadly, the people who buy fake items usually don't even know they're doing it.
Counterfeits put Americans at risk because they:
Aren't made to U.S. safety standards.
Often contain toxic chemicals.
May be built with faulty and dangerous parts.
Put Americans out of work.
That's where the National Intellectual Property Rights Coordination Center's Operation Team Player comes in.
The IPR Center's Operation Team Player is a year-round effort to catch people who try to pass off counterfeit sports merchandise, apparel, collectibles, memorabilia and even tickets. The IPR Center works with law enforcement and industry partners to intercept jerseys, hats, blankets, T-shirts, championship rings and a wide range of other gear in a global effort to protect people just like you.
"Counterfeiting is not a victimless crime. Rights holders trademarks are violated. Small business that purchase expensive vendor licenses to sell authentic merchandise lose their revenue. And consumers, duped by the counterfeiters, spend their hard-earned money on substandard quality items and unnecessarily open themselves up to financial fraud scams," - Jim Mancuso, IPR Center director 


In partnership with the major sporting leagues, the IPR Center works to identify warehouses, stores, flea markets, online vendors and street vendors selling fake sports related merchandise, apparel, souvenirs and collectables throughout the country. Our goal is to build successful criminal investigations targeting the most egregious violators and provide consumers with shopping tips.
"Thanks to our partners within major sporting leagues, Operation Team Player has become the biggest anti-counterfeiting initiatives within the federal government to combat intellectual property theft and prevent counterfeit merchandise from reaching sports fans," said James Mancuso, IPR Center director. "While we understand consumiers are looking for the best deals to support their favorite NFL team, we want to make sure they are equipped to make informed decisions to avoid being scammed." 
Operation Team Player targets counterfeiters and their products all year, but more people are interested in sports memorabilia during playoff games and major sporting events. Authorities catch more counterfeiters and stop more fake items in the weeks surrounding big games like the Super Bowl, as well as during the Stanley Cup Playoffs, MLB Playoffs, and the World Cup.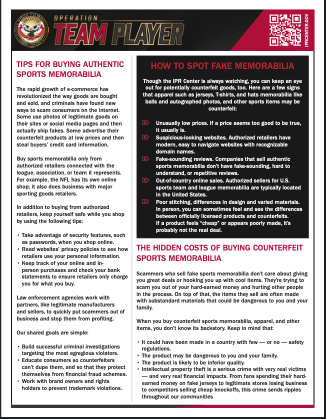 A year-round effort to crackdown on the illegal importation of counterfeit sports apparel and entertainment merchandise.