National Intellectual Property Rights Coordination Center
RECENT NEWS
2020/01/30 13:36:00 UTC
Homeland Security Investigations (HSI) has announced the seizure of more than 176,000 counterfeit sports-related items with a street value of approximately $123 million.
2020/01/29 07:01:00 UTC
The Department of Homeland Security (DHS) has released its first-ever report that outlines a series of recommendations and actions that can be taken by the federal government and industry partners to combat trafficking in counterfeit and pirated goods.
2020/01/22 18:26:00 UTC
Memorandum of understanding furthers DHS strategy to combat human trafficking and the importation of goods produced with forced labor.
RECENT TWEETS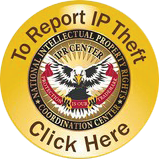 Report IP Theft
To report violations of intellectual property rights, including counterfeiting Report IP Theft and piracy, to the National IPR Coordination Center, click here.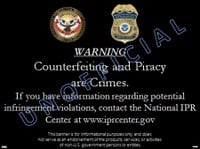 Civil Anti-Counterfeiting and Piracy Banner
For more information or to request permission to use and place the official seizure banner on your website, please click here.