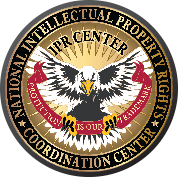 National Intellectual Property Rights Coordination Center
RECENT NEWS
2019/09/19 07:36:00 UTC
IPR Center outreach and training programs place a high priority on efforts to inform and educate the public about its enforcement actions, including those that target forced labor. A well-respected Washington D.C. law firm – known for its training programs specializing in legal matters associated with high-profile issues such as forced labor – is the latest to praise the IPR Center's recent partnership with Liberty Shared, a nongovernmental organization with global coverage founded in Hong Kong, to combat forced labor in global commerce.
2019/09/13 13:43:00 UTC
During Monday Night Football in Oakland, U.S. Immigration and Customs Enforcement's (ICE) Homeland Security Investigations (HSI) San Francisco partnered with NFL brand security representatives and state and local law enforcement officers to prevent counterfeit sales.
2019/08/15 14:34:00 UTC
The National Intellectual Property Rights Coordination Center is reviewing an annual report on the number of IPR seizures that have raised the total estimated manufacturer's suggested retail price (MSRP) of the seized goods – had they been genuine – to $1.4 billion.
RECENT TWEETS
Quick Links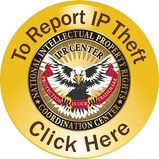 Report IP Theft
To report violations of intellectual property rights, including counterfeiting Report IP Theft and piracy, to the National IPR Coordination Center, click here.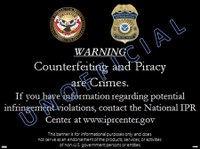 Civil Anti-Counterfeiting and Piracy Banner
For more information or to request permission to use and place the official seizure banner on your website, please click here.