National Intellectual Property Rights Coordination Center
RECENT NEWS
2020/02/19 13:49:00 UTC
CARTAGENA – The Port of Cartagena billboards itself as one of the top five busiest port in Latin America, accommodating high-capacity containerized vessels arriving from all over the world with millions of tons of cargo annually. Although the high-volume shipments are viewed as critical to stimulate the flow of commerce, they've also caught the eye of port authorities and their efforts to maintain safety and security for shippers and brand owners in search of protecting their cargo.
2020/01/30 13:36:00 UTC
Homeland Security Investigations (HSI) has announced the seizure of more than 176,000 counterfeit sports-related items with a street value of approximately $123 million.
2020/01/29 07:01:00 UTC
The Department of Homeland Security (DHS) has released its first-ever report that outlines a series of recommendations and actions that can be taken by the federal government and industry partners to combat trafficking in counterfeit and pirated goods.
RECENT TWEETS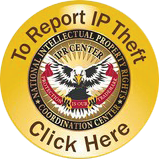 Report IP Theft
To report violations of intellectual property rights, including counterfeiting Report IP Theft and piracy, to the National IPR Coordination Center, click here.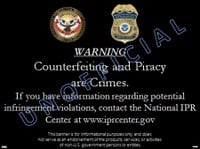 Civil Anti-Counterfeiting and Piracy Banner
For more information or to request permission to use and place the official seizure banner on your website, please click here.