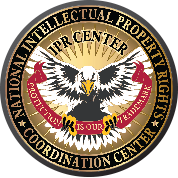 National Intellectual Property Rights Coordination Center
RECENT NEWS
2020/01/22 18:26:00 UTC
Memorandum of understanding furthers DHS strategy to combat human trafficking and the importation of goods produced with forced labor.
2020/01/16 19:01:00 UTC
NEW ORLEANS – When it comes to college football playoff games, sports fans are passionate about their sports apparel, especially when purchasing national championship gear to help preserve the thrill of victory. However, in New Orleans, the agony of defeat is being felt among a handful of vendors caught selling counterfeit merchandise during the 2020 College Football Playoff National Championship Game between LSU and Clemson.
2020/01/09 06:39:00 UTC
An Illinois man who manufactured counterfeit pills in an unsanitary garage, marked them as prescription Xanax, then trafficked more than 4 million of them throughout the U.S. has been sentenced to 13 years in federal prison.
RECENT TWEETS
Quick Links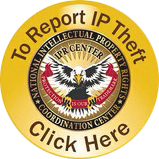 Report IP Theft
To report violations of intellectual property rights, including counterfeiting Report IP Theft and piracy, to the National IPR Coordination Center, click here.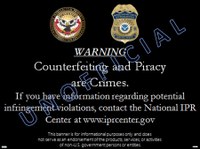 Civil Anti-Counterfeiting and Piracy Banner
For more information or to request permission to use and place the official seizure banner on your website, please click here.