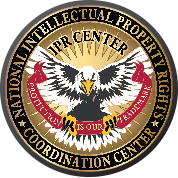 National Intellectual Property Rights Coordination Center
RECENT NEWS
2019/04/25 06:45:00 UTC
A federal grand jury has indicted Xiaoying Xu, age 34, a Chinese citizen, and Yiwen Zhu, age 34, a Chinese citizen and legal permanent resident of the United States, both residing in Covina, California, on a federal conspiracy charge, mail fraud, and trafficking in counterfeit goods.
2019/04/17 14:14:00 UTC
A Laguna Hills man has been arrested on federal charges alleging he oversaw a scheme that smuggled counterfeit Apple and Samsung cell phone components from China that were sold in the United States, generating tens of millions of dollars in revenue.
FEATURED VIDEO
Quick Links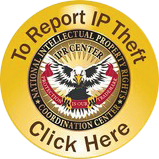 Report IP Theft
To report violations of intellectual property rights, including counterfeiting Report IP Theft and piracy, to the National IPR Coordination Center, click here.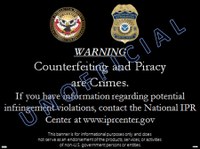 Civil Anti-Counterfeiting and Piracy Banner
For more information or to request permission to use and place the official seizure banner on your website, please click here.