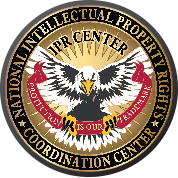 National Intellectual Property Rights Coordination Center
RECENT NEWS
2019/04/17 14:14:00 UTC
A Laguna Hills man has been arrested on federal charges alleging he oversaw a scheme that smuggled counterfeit Apple and Samsung cell phone components from China that were sold in the United States, generating tens of millions of dollars in revenue.
2019/04/09 18:56:00 UTC
WASHINGTON – Univar USA Inc. (Univar), a subsidiary of Univar Inc., of Downers Grove, Illinois, has agreed to pay the United States $62.5 million to settle allegations under the customs penalty statute that it was grossly negligent or negligent when it imported 36 shipments of transshipped saccharin between 2007 and 2012.
FEATURED VIDEO
Quick Links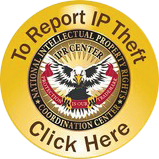 Report IP Theft
To report violations of intellectual property rights, including counterfeiting Report IP Theft and piracy, to the National IPR Coordination Center, click here.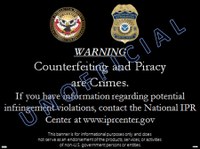 Civil Anti-Counterfeiting and Piracy Banner
For more information or to request permission to use and place the official seizure banner on your website, please click here.