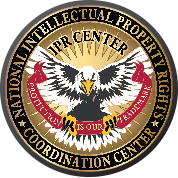 National Intellectual Property Rights Coordination Center
RECENT NEWS
2019/06/17 11:39:00 UTC
The 2019 NBA Finals events and games played in the Bay Area filled Golden State Warriors and Toronto Raptors fans with much excitement, creating a desire among many of them to commemorate their experiences with the purchase of NBA sports clothing and other merchandise. However, many unsuspecting fans could have been victims of purchasing counterfeit merchandize.
2019/06/11 17:46:00 UTC
Reaching more than 30,000 stakeholders in the last two years, the U.S. Immigration and Customs Enforcement (ICE) Homeland Security Investigations (HSI) led National Intellectual Property Rights Coordination Center's (IPR Center) outreach program is a key pillar in the effort to combat intellectual property (IP) theft.
FEATURED VIDEO
Quick Links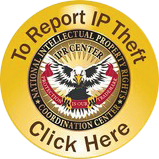 Report IP Theft
To report violations of intellectual property rights, including counterfeiting Report IP Theft and piracy, to the National IPR Coordination Center, click here.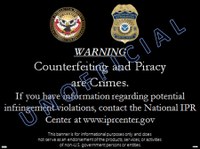 Civil Anti-Counterfeiting and Piracy Banner
For more information or to request permission to use and place the official seizure banner on your website, please click here.