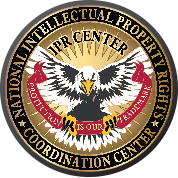 National Intellectual Property Rights Coordination Center
RECENT NEWS
2018/12/03 17:40:00 UTC
WASHINGTON – More than 1 million copyright-infringing website domain names selling counterfeit automotive parts, electrical components, personal care items and other fake goods were criminally and civilly seized in the past year through the combined efforts of law-enforcement agencies across the world, high-profile industry representatives and anti-counterfeiting associations.
2018/10/30 10:35:00 UTC
IPR Center Director Alex Khu and CoLP Commissioner Ian Dyson pledged to combine resources to tackle the illegal importation and distribution of counterfeit goods that threaten the health and safety of consumers, wreak havoc on local and national economies, and fund criminal organizations involved in various illicit activities.
FEATURED VIDEO
Quick Links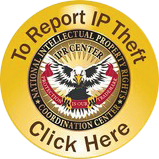 Report IP Theft
To report violations of intellectual property rights, including counterfeiting Report IP Theft and piracy, to the National IPR Coordination Center, click here.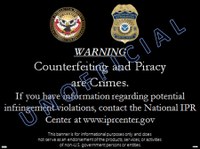 Civil Anti-Counterfeiting and Piracy Banner
For more information or to request permission to use and place the official seizure banner on your website, please click here.