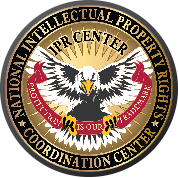 National Intellectual Property Rights Coordination Center
RECENT NEWS
2021/01/13 15:47:00 UTC
The National Intellectual Property Rights Coordination Center has announced a formal partnership with the International AntiCounterfeiting Coalition to protect legitimate manufacturers, retailers and consumers, across every sector of the global economy, by preventing illegal counterfeit goods from entering the United States.
2021/01/06 10:46:00 UTC
A Maine man has been sentenced to five years in prison and two years of supervised release for mail fraud and copyright infringement stemming from his online sales of counterfeit DVDs.
2020/12/09 16:12:00 UTC
More than 100,000 counterfeit 3M N95 surgical masks destined to be used by hospital workers have been seized by HSI special agents and CBP officers in El Paso, Texas.
RECENT TWEETS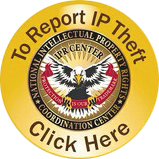 Report IP Theft
To report violations of intellectual property rights, including counterfeiting Report IP Theft and piracy, to the National IPR Coordination Center, click here.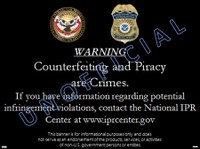 Civil Anti-Counterfeiting and Piracy Banner
For more information or to request permission to use and place the official seizure banner on your website, please click here.