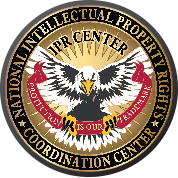 National Intellectual Property Rights Coordination Center
RECENT NEWS
2019/05/15 07:41:00 UTC
The Better Business Bureau study, entitled "Fakes Are Not Fashionable: A BBB Study of the Epidemic of Counterfeit Goods Sold Online," takes a close look at the proliferation of counterfeit consumer goods and the criminal elements that circulate them.
2019/05/10 09:29:00 UTC
Raymond Whelan, 49, of Cheektowaga, NY, who was convicted of conspiracy to traffic in counterfeit goods, has been sentenced to serve 24 months in prison
FEATURED VIDEO
Quick Links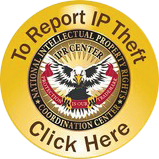 Report IP Theft
To report violations of intellectual property rights, including counterfeiting Report IP Theft and piracy, to the National IPR Coordination Center, click here.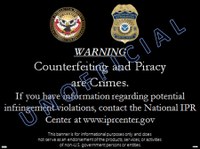 Civil Anti-Counterfeiting and Piracy Banner
For more information or to request permission to use and place the official seizure banner on your website, please click here.