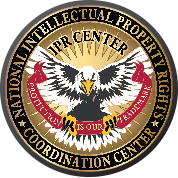 National Intellectual Property Rights Coordination Center
RECENT NEWS
2019/05/24 07:19:00 UTC
A federal grand jury has returned a two-count indictment against Ivan Lopez, 34, of Mexico, and Erick Olivas Lopez, 39, of Mexico, charging them with conspiracy and possession with intent to distribute at least 400 grams of a substance containing fentanyl.
2019/05/22 09:26:00 UTC
A criminal information charges a Brooklyn, N.Y., clothing and goods wholesaler with conspiracy to commit wire fraud and trafficking in counterfeit goods in connection with the alleged sale of more than $20 million worth of Chinese-made counterfeit goods to the U.S. military and other government purchasers, as well as to other companies that supply the U.S. government.
FEATURED VIDEO
Quick Links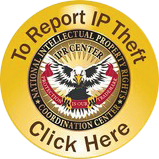 Report IP Theft
To report violations of intellectual property rights, including counterfeiting Report IP Theft and piracy, to the National IPR Coordination Center, click here.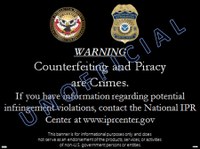 Civil Anti-Counterfeiting and Piracy Banner
For more information or to request permission to use and place the official seizure banner on your website, please click here.