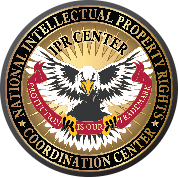 National Intellectual Property Rights Coordination Center
RECENT NEWS
2020/09/22 16:10:00 UTC
CARTAGENA, Colombia – Homeland Security Investigations–Cartagena, working cooperatively with Colombian authorities, have seized more than two million packs of cigarettes worth nearly $2.3 million as part of an ongoing joint investigation of counterfeit cigarettes believed to be part of an illegal trade of black-market tobacco.
2020/09/16 10:20:00 UTC
WASHINGTON D.C. – The National Intellectual Property Rights Coordination Center (IPR Center), the Motion Picture Association (MPA) and the Alliance for Creativity and Entertainment (ACE), the U.S. Chamber of Commerce's Global Innovation Policy Center (GIPC) as well as CTAM, the industry marketing organization, today announced a multi-layered partnership designed to strengthen innovation and collaboration within the organizations' collective content protection efforts.
2020/09/01 19:49:00 UTC
A west coast fashion district clothing importer and the company's owner face federal charges following a Homeland Security Investigations probe targeting businesses linked to money laundering or drug cartels.
RECENT TWEETS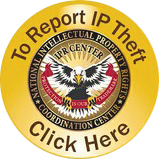 Report IP Theft
To report violations of intellectual property rights, including counterfeiting Report IP Theft and piracy, to the National IPR Coordination Center, click here.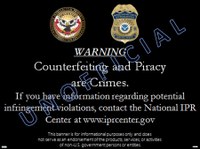 Civil Anti-Counterfeiting and Piracy Banner
For more information or to request permission to use and place the official seizure banner on your website, please click here.