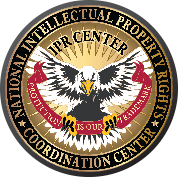 National Intellectual Property Rights Coordination Center
RECENT NEWS
2019/10/16 07:00:00 UTC
The National Intellectual Property Rights Coordination Center hosted a group of police and customs attachés representing the embassies of Dominican Republic, Honduras, Bolivia, Chile, Peru, Ecuador, and Panama. All of the attachés are assigned to Washington D.C. on behalf of their respective countries.
2019/10/07 07:25:00 UTC
The Homeland Security Investigations (HSI)-led National Intellectual Property Rights Coordination Center (IPR Center) and HSI New Delhi participated in the annual International Trademark Association (INTA) brand protection event in New Delhi, India.
2019/09/27 07:26:00 UTC
Homeland Security Investigations is working with the Kenyan Wildlife Service to determine if nearly 3-metric tons of elephant tusks seized by the Service in Mombasa, Kenya are linked to known wildlife trafficking organizations. The efforts are important in furtherance of ICE's role in the President's Task Force on Wildlife Trafficking.
RECENT TWEETS
Quick Links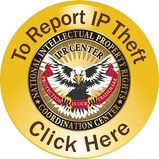 Report IP Theft
To report violations of intellectual property rights, including counterfeiting Report IP Theft and piracy, to the National IPR Coordination Center, click here.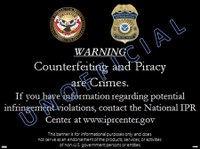 Civil Anti-Counterfeiting and Piracy Banner
For more information or to request permission to use and place the official seizure banner on your website, please click here.